2018 Vivid Adventures By Chaturbate Series To Debut Live At EXXXOTICA EXPO In Denver On APRIL 6-8
Vivid Radio Hosts and Chaturbate Broadcasters to Stage Hot Events in the Mile High City, Then Take Them Across the Country
LOS ANGELES—(March 27, 2018) — The second annual Vivid Adventures by Chaturbate series will kick off on Friday, April 6-8 in Denver. Chaturbate and Vivid Radio will host their first live event of 2018 at the Exxxotica Expo located at Crowne Plaza, Denver Airport Convention Center at booth #220. Listeners across the country can hear the shows on SiriusXM Channel 415.
The series has proven to be irresistible to fans. It's a combination of stunning Chaturbate broadcasters and live-streaming cam shows from the expo floor plus live radio programming with the beautiful Vivid Radio hosts.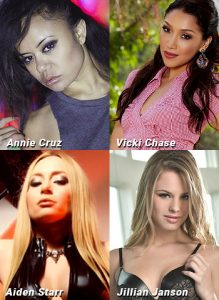 Chaturbate is the world's most popular free, live-cam site and Vivid Radio is widely recognized as the most listened to adult radio network with a wide selection of programming and gorgeous hosts who are all either legendary or current adult performers.
"Vivid Adventures is so much fun for both Chaturbate fans and our broadcasters," said Shirley Lara, Chief of Operations for Chaturbate. "It's amazing how much positive energy is generated when our broadcasters interact with the Vivid Radio hosts and the Exxxotica Expo attendees. I invite everyone in the Denver area to come out and meet our fantastic performers and the Vivid Radio on-air personalities!"
Expo attendees can meet the radio hosts and broadcasters and hear the live programs as they happen.
Exxxotica Expo is the largest event in the U.S. dedicated to love and sex. Attractions include hundreds of adult stars, wild main stage performances, seminars, giveaways, contests, competitions and famous DJs.
"Our radio hosts look forward to each of these events," said Marci Hirsch, vice president of production and licensing for Vivid Entertainment. "For the Denver event we have Aiden Starr, Annie Cruz and guest hosts Vicki Chase and Jillian Janson. They can't wait to interview the Chaturbate broadcasters and all the other fascinating personalities at the expo."
The daily Vivid Radio host schedule for Denver's Vivid Adventures by Chaturbate at the Exxxotica Expo follows:
Friday 4/6
7-8pm Aiden Starr & Vicki Chase
8-9pm Annie Cruz & Jillian Janson
Saturday 4/7
3-4pm Annie Cruz & Vicki Chase
4-5pm Aiden Starr & Jillian Janson
Sunday 4/8
2-3pm Aiden Starr & Vicki Chase
3-4pm Annie Cruz & Jillian Janson